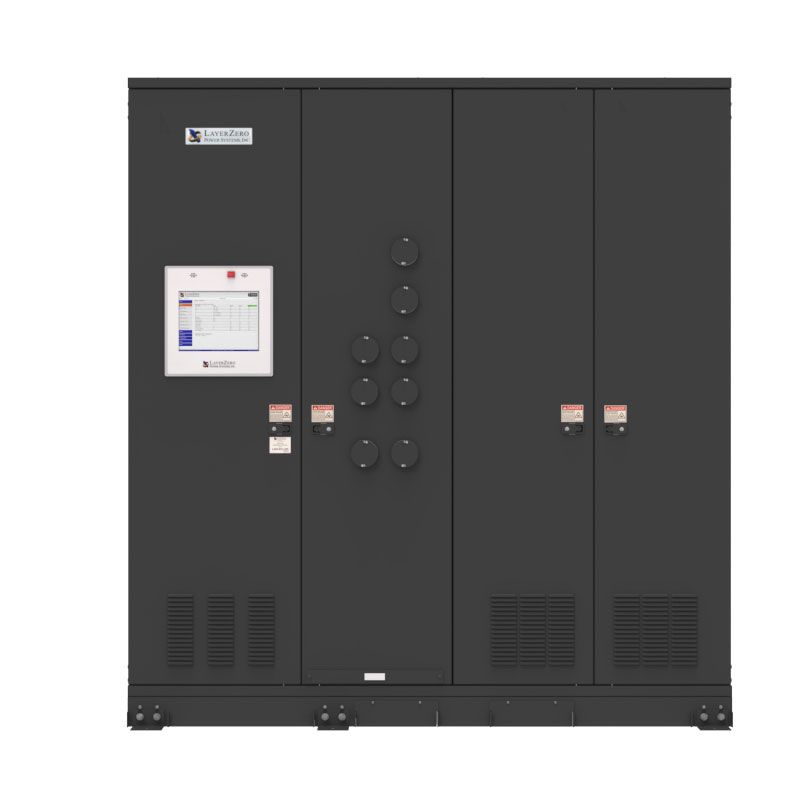 2000 A 480 V 3-Pole eSTS
Static Transfer Switch
Product Overview
The LayerZero eSTS Static Transfer Switch is a safe and reliable solution for ensuring uninterrupted power supply in critical applications. Designed to seamlessly transfer power between multiple sources, it provides enhanced reliability and protection for sensitive equipment.
With its advanced features and robust construction, the eSTS Static Transfer Switch offers seamless switching between power sources, minimizing downtime and preventing disruptions. It incorporates advanced power monitoring capabilities, allowing for real-time monitoring of voltage, frequency, and power quality.
The eSTS Static Transfer Switch is built with safety and reliability in mind, featuring built-in redundancy, inrush mitigation, and fast transfer times. It is designed for easy installation and maintenance, offering a compact design and user-friendly interface for seamless operation and configuration.
Documents and Downloads
A one line diagram is a symbolic representation of three-phase electric power systems, depicting the paths for power flow between entities of the power distribution system.
Download
One Line
A product outline is a technical engineering drawing showing mechanical characteristics of our products.
Download
Product Outline
Product Specifications
Product Specifications
Physical Specifications
| | |
| --- | --- |
| Weight | 4,800 lbs [2177kg] |
| Dimensions | 96" x 90" x 42" (2438 mm x 2277 mm x 1069 mm) |
| Clearances | Front: 42" (1067 mm) Rear: 4" (102 mm) Sides: 0" Top: 18" (457 mm) |
| Heat Dissipation | 26,000 BTU/Hr |
| Color | Light Gray, Black |
| Warranty | One-Year Limited Warranty |
| INSIGHT IR Cameras | Optional (INSIGHT IR Portholes are standard) |
| Extended Warranty | Optional (Please contact LayerZero Sales) |
Static Transfer Switch Configuration
| | |
| --- | --- |
| Voltage | 480 |
| Current | 1600 |
| Number of Sources | 2 |
| Number of Output CBs | 2 |
| Redundancy | SMR |
| Number of Wires | 3 |
| Number of Poles | 3 |
| Frequency | 60 |
| Withstand | 65 |
| Presence of Redundant Fans | Yes |
| Incoming Feeder Cables | Top and Bottom Entry |
| Outgoing Load Cables | Top and Bottom Exit |
Circuit Breaker Configuration
| | |
| --- | --- |
| Frame Rating | 2000 |
| Circuit Breaker Type | Molded Case Switch |
| Circuit Breaker Mounting Type | Fixed |
| Max Steady State Rating | N/A |
| Percent Rating | 100 |
| Fault Rating at Rated Voltage | 125kA @ 480VAC |
| Presence of Shunt Trip | No |
| Presence of CB Position Indications | Yes - monitored internally |
| Presence of Lockout/Tag-out Bracket | No |
| Number of Poles | 3 |
| Supplier | ABB |
Surge Protective Device Configuration
| | |
| --- | --- |
| Voltage | 480 |
| Number of Wires | 3 |
| Type | Type 2 SPD |
| Surge Withstand | 40 |
| Presence of Alarm Indication | Yes - monitored internally |
| Supplier | |
Safety Features
Safety Features
The LayerZero eSTS is designed for maximum operator safety. It uses a sectionalized design, which means that the power quality monitoring and SCRs are housed in a separate cabinet from the circuit breakers and customer cable connections. This compartmentalized design allows the equipment to be safely operated and serviced.
In normal operation, the inner dead-front doors of the eSTS remain closed. A mechanical interlock is built into the door, which prevents the bypass procedure from being initiated accidentally. This helps to eliminate human error and ensure the safety of operators.
A polycarbonate window in the door allows operators to safely view the status LEDs in the control section without opening the door. INSIGHT IR® cameras (optional) or IR Ports (standard) provide the ability to monitor the temperatures of critical connections with the doors safely closed.
The LayerZero Power Systems eSTS is a safe and reliable piece of equipment that is designed to protect operators and equipment.
Reliability Features
Reliability Features
The LayerZero eSTS Static Transfer Switch is designed with internal redundancy to ensure maximum reliability. Every logical machine segment of the eSTS is powered with triple redundant power supplies, which eliminates the risk of signal interference. Control communications utilize fiber optic signals to further maximize system reliability.
The eSTS is equipped standard with Single Module Redundancy (SMR), a cost-effective topology that provides redundant power paths to mission-critical equipment. In SMR systems, each source has built-in triple redundancy of processors, and every phase is controlled with a separate gate drive board. This unique topology ensures that the system is fail-safe, maintaining full switching functionality even if a critical board were to fail.
For applications where reliability simply cannot be compromised, the eSTS offers Triple Modular Redundant (TMR) architecture. In TMR systems, all components are triple redundant, so that a failure of any component on any board will not compromise the critical load. With appropriate and timely service and maintenance, an eSTS TMR system will maintain virtually 100% probability of mission success.
Power Quality Monitoring Features
Power Quality Monitoring Features
The LayerZero eSTS is equipped with an advanced Power Quality Monitoring (PQM) system that provides local and remote access using non-proprietary protocols. The PQM system includes basic monitoring, alarms, waveform capture, and ITIC plotting capabilities.
The ITIC plotting utility is used to audit the quality of transfers. Systems can be configured to automatically email users waveform captures as an attachment. This ensures that users are notified of events as they happen, without having to manually check for waveform captures.
Connectivity Features
Connectivity Features
Ethernet Connectivity: This port is used to connect to a network.
Modbus/TCP: This protocol is used to communicate with BMS systems.
NTP Time Clock Synchronization: This protocol is used to synchronize the switch's clock with an external time source.
SNMP Connectivity: This protocol is used to manage the switch remotely.
Where to Buy
Find My Local Representative
*Select "Allow LayerZero.com To
Know Your Location" when prompted