LayerZero Industry Firsts
LayerZero is a global leader in the Power Distribution industry, renowned for our innovative solutions and original ideas that have shaped the industry. Our commitment to continuous improvement and customer satisfaction sets us apart.
A Culture of Innovation and Collaboration
At LayerZero, we foster a culture of transparency and open communication. This allows us to maintain the flexibility of a "small company" while delivering the expertise and resources of an industry leader. Our agile approach enables rapid product development, ensuring the timely application of new ideas and advancements. We continuously brainstorm and collaborate to enhance power distribution solutions.
Customer-Centric Approach
We prioritize our clients and their evolving needs. We understand the importance of staying current and adapting to changing industry trends. By maintaining close relationships with our customers, we ensure that our power distribution systems meet their specific requirements and deliver maximum value.
INSIGHT IR™ Cameras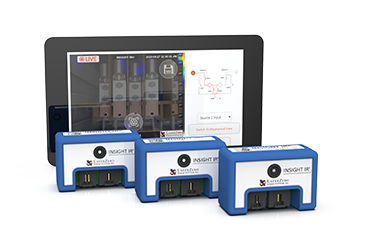 INSIGHT IR™ continuously monitors bolted connections and critical components for thermal issues.
• Generates live thermal images
• Captures data at regular intervals
• Displays temperatures on a timeline
Triple Modular Redundancy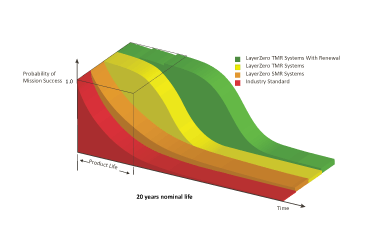 Triple Modular Redundant Systems increase the probability of mission success by an order of magnitude during the operational life of the STS. LayerZero TMR systems are deployed with:
• Three observers
• Three controllers
• Three actuators (gate drives) for each pair of SCRs
The STS is designed to continue to meet specification in the event of a catastrophic failure of one of the observer or controller or drive or power supply systems.
Black Box Forensics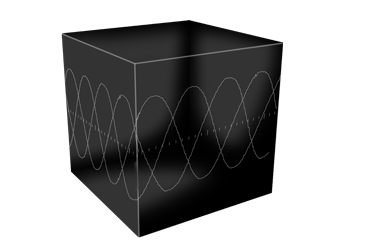 A High Level Processor is supplied with a Compactflash disk. Communication is via fiber optics and the result is a "Black Box" data recorder. Event logs, alarms, diagnostics, and Waveform Capture are accessible via a VPN Router that comes standard with each unit. Time-stamping resolution is 10 microseconds; fast enough to catch any mechanical or electrical activity. Each transfer event as well as transfer-inhibit event is captured and stored on solid-state memory in the form of a real-time waveform capture three cycles before and three cycles after an event.
Real-Time Waveform Capture
LayerZero Power Systems has integrated waveform capture functionality into all devices; and facility operators are starting to adopt this feature with enthusiasm. When an anomaly is detected, it is now possible to capture voltage and current waveforms at the PDU inputs and outputs; at the RPP inputs; and most importantly, at each of the branch circuit breaker outputs.
ITIC Plotting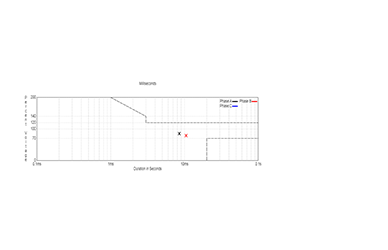 Embedded within all LayerZero products is the ability to generate ITIC plots for every power quality event. This enables end-users with the ability to easily see and understand power quality events when they occur in the critical electrical system.
Fiber Optic Based Controls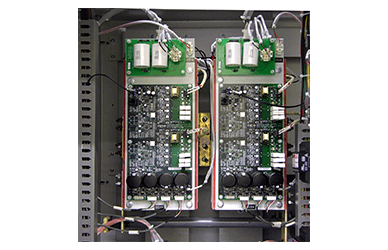 Fiber optic-based controls eliminate noise and interference while isolating components from high voltage. Optical fiber allows service to be reliably connected while protecting the equipment.
Dynamic Phase Compensation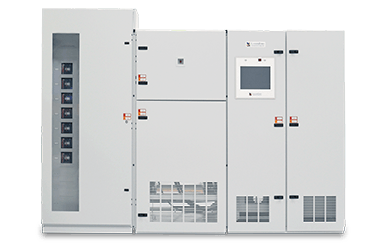 LayerZero Power Systems was patented the technology for a source transfer invention utilized by the company's Static Transfer Switches, to automatically compensate for differences in phases between sources, eliminating downstream transformer inrush from out-of-phase transfers. The innovative invention operates by introducing an appropriate time delay during the transfer, the duration of the delay is a function of the phase angle between the two sources at the instant of transfer.
Voice Guided Bypass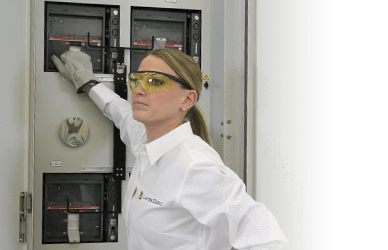 The most common cause of static transfer switch failure is human error while completing the bypass procedure. To ensure that the correct bypass sequence is followed, LayerZero static transfer switches utilize a dynamic voice-guided bypass procedure that instructs users through the process, step-by-step.
INSIGHT IR™ Portholes
INSIGHT IR™ Portholes are openings in LayerZero units with hinged covers for ease of thermal scanning of all bolted connections. Thermal scanning bolted connections is a common procedure for preventive maintenance. The covers of INSIGHT IR™ Portholes swivel outward to reveal a mesh. The mesh helps protect operators while ensuring full functionality of thermal scanning ability. The usage of INSIGHT IR™ Portholes makes it safer for operators to measure bolted connections.