Remote Distribution Panels (eRDP)
Remote Distribution Panels (eRDPs) are an essential component of electrical power distribution systems, particularly in data centers. eRDPs play a vital role in efficiently distributing electrical power to various circuits and equipment within the facility.
Unlike Remote Power Panels (eRPPs), eRDPs utilize subfeeds for power distribution.
RDPs are designed to meet the specific power requirements of data centers. They serve as centralized points for receiving power from a primary source, such as a Power Distribution Unit (PDU), and ensuring its safe and efficient delivery to critical power loads.
Equipped with circuit breakers or fuses, RDPs provide protection against overcurrents and electrical faults, safeguarding both connected equipment and personnel within the data center environment.
One of the key advantages of RDPs is their ability to enable efficient power management and load balancing. By distributing power to specific circuits, these panels allow for better control and allocation of electrical resources. This allocation prevents overloading of individual circuits and promotes stable and reliable operation of critical systems within the data center.
Furthermore, RDPs simplify maintenance procedures by facilitating the identification and isolation of issues by organizing power distribution into separate circuits. This segmentation minimizes downtime and enhances the ability to perform maintenance tasks without disrupting the overall operation of the data center.
LayerZero eRDPs are crucial for reliable and efficient power distribution in data centers. They ensure the safe and reliable delivery of electricity to critical loads, provide protection against faults, and simplify maintenance procedures.
LayerZero Remote Distribution Panel (eRDP) Product Lines
LayerZero Power Systems eRDPs are built based on standard configurations, customized to specific needs. The designs cover a wide range of Power Distribution requirements. All units come with Power Quality Monitoring, including real-time waveform capture and ITIC plotting.
| Product Model | Voltage | KAIC | Main(s)? | Distribution | H | W | D | Weight |
| --- | --- | --- | --- | --- | --- | --- | --- | --- |
| RDP-1 | 480 | 65 | 1-800AF | Floor Mounted, (1) 1600A SafePanel | 88" (2235 mm) | 36" (610 mm) | 24" (914 mm) | 510 lbs (231 kg) |
| RDP-2 | 480 | 65 | 1-800AF | Wall Mounted, (1) 1600A SafePanel | 89" (1194 mm) | 47" (1194 mm) | 18" (457 mm) | 912 lbs (414 kg) |
| ePanel HD1 | 480 | 65 | 1-800AF | Wall Mounted, (1) 1600A SafePanel | 91" (2300 mm) | 24" (610 mm) | 13" (332 mm) | 450 lbs (204 kg) |
| ePanel HD2 | 480 | 65 | 1-800AF | Wall Mounted, (2) 1600A SafePanel | 90" (2290 mm) | 54" (1408 mm) | 21" (540 mm) | 550 lbs (250 kg) |
eRDPs Increase Operator Safety in Critical Facilities
In data centers, eRDPs (Remote Distribution Panels) play a crucial role in delivering selective trip coordination and circuit protection for mission-critical loads. By incorporating eRPPs into power panels, it ensures enhanced safety and protection. eRPPs are specifically designed to prioritize operator safety, featuring standard InSight IR™ Portholes and optional SafePanel™ Distribution. With LayerZero eRPPs, you can confidently expand your power capacity by safely adding additional circuit breakers to meet growing demands.
LayerZero eRPPs utilize the innovative SafePanel™ technology, which consists of a finger-safe panel board designed to enclose circuit breaker connections within a recessed well, ensuring maximum safety during maintenance and operation. The SafePanel™ also incorporates an "Arc-Free Zone" feature that effectively prevents cross-connection between phases when additional circuit breakers are installed.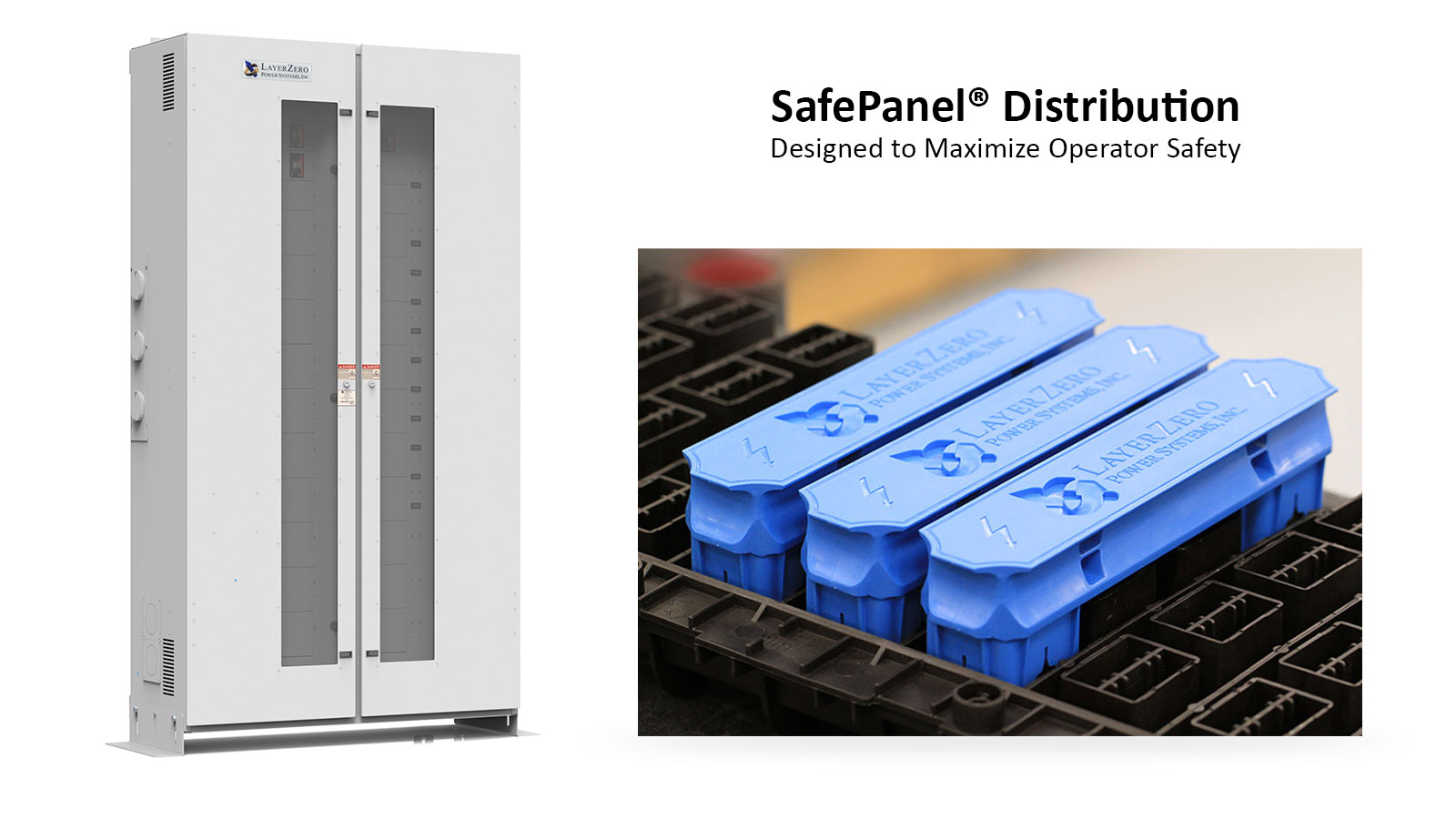 ePODs are Designed to Maximize Power Reliability

LayerZero eRDPs (Remote Distribution Panels) provide significant reliability benefits, making them an ideal choice for mission-critical environments. These panels are purpose-built to deliver reliable and robust power distribution to critical loads, ensuring uninterrupted operations and enhanced performance.
One of the key advantages of eRDPs is their utilization of subfeeds. Subfeeds allow for easier scalability and adaptability to changing power requirements, enabling organizations to efficiently manage and grow with their evolving needs without compromising reliability.
Another reliability benefit of eRDPs is their ability to provide better isolate faults. By using subfeeds, any issues in one subfeed do not impact the power supply to other subfeeds. This isolation enhances system resilience and uptime, as potential problems are contained within specific sections of the panel, preventing widespread power disruptions.
LayerZero's commitment to power reliability and operator safety is evident in the meticulous design of their eRDPs. These panels are specifically engineered for mission-critical applications, ensuring comprehensive and dependable power distribution solutions.
Highly Connected Systems Designed for Direct Access to Information
LayerZero eRPP Remote Power Panels are equipped with web servers connecting directly into networks via open protocols like Ethernet Cable, TCP/IP, SNMP, and Modbus. With TCP/IP connectivity, ePODs can be accessed remotely via a secure connection, providing information such as panel names, metering data, and waveform capture.
Advanced Power Quality Monitoring Capabilities
eRPPs (Remote Power Panels) incorporate advanced features that enable web-enabled monitoring and control, offering enhanced visibility and control over power distribution systems. These panels are equipped with comprehensive monitoring tools that seamlessly integrate with System Management Software, utilizing open protocols for efficient management of electrical power distribution systems.
Furthermore, eRPPs integrated with PDUs (Power Distribution Units) and Static Transfer Switches offer additional benefits. In the event of power transfers, these panels can automatically send email notifications along with waveform capture pictures, facilitating quick analysis and proactive response measures. As with all LayerZero products, eRPPs are equipped with Power Quality Monitoring, providing real-time waveform capture and ITIC plotting.
With eRPPs, you can effectively monitor and optimize your power distribution systems, ensuring optimal performance, reliability, and the ability to promptly address any power-related issues that may arise.
Flexibility and Safety in Power Capacity Expansion
LayerZero eRPPs offer a high level of flexibility by allowing the safe addition of extra circuit breakers to accommodate increasing power requirements. They feature the LayerZero SafePanel™, a finger-safe panel board designed to encapsulate circuit breaker connections within a recessed well, ensuring utmost safety. The SafePanel™ incorporates an "Arc-Free Zone" specifically designed to prevent cross-connection of phases when installing additional circuit breakers.
With LayerZero eRPPs, you can confidently expand your power distribution system while maintaining the highest safety standards, preventing potential hazards and ensuring the smooth operation of your electrical infrastructure.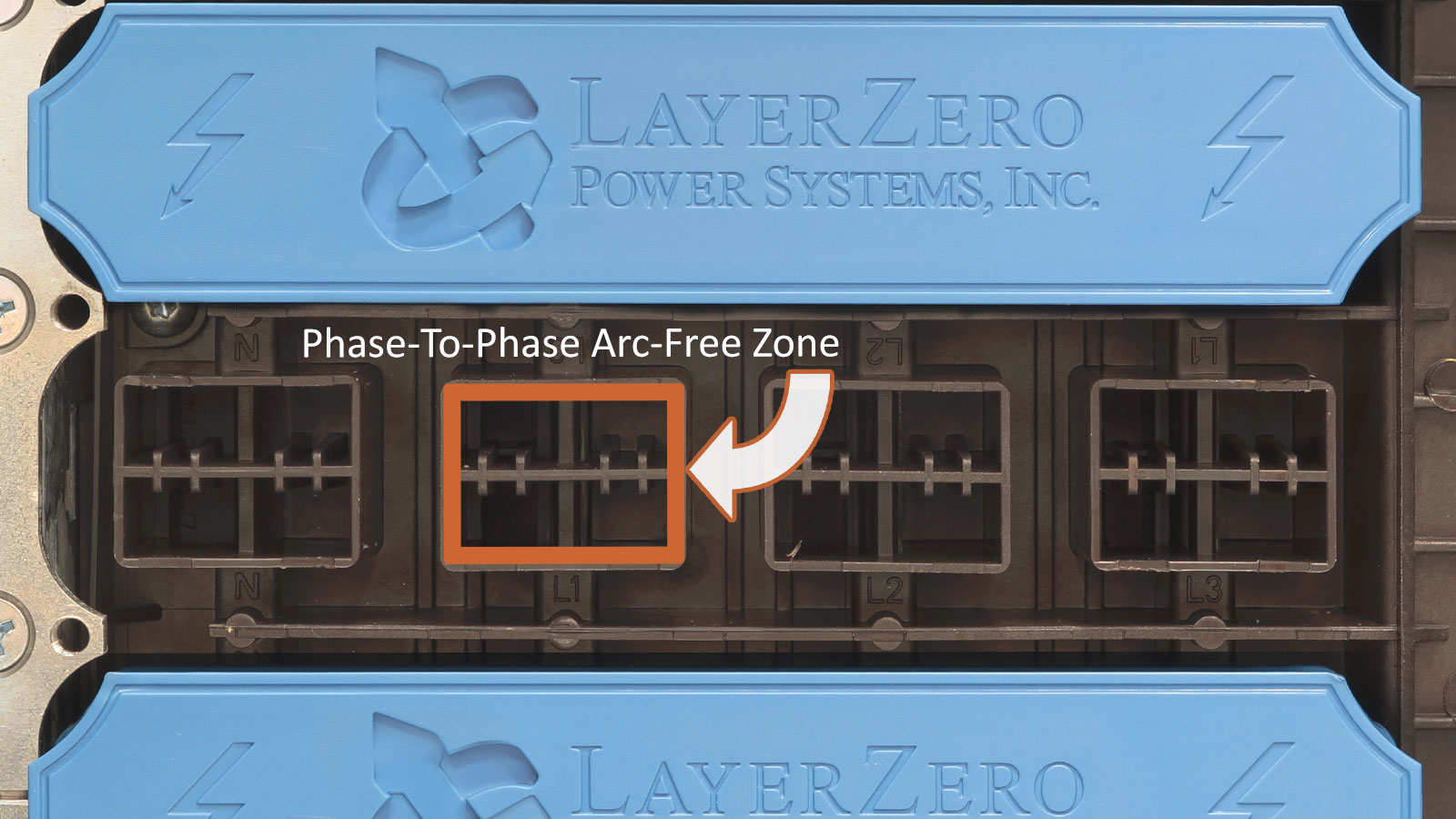 To get help selecting the best LayerZero product for your needs, please do not hesitate to contact us.
LayerZero Remote Power Panel Innovations
• First to introduce real-time Waveform Capture
• Front only connection access on Power Distribution Units

Call to Action
To learn more about LayerZero eRPPs, please contact us today.