LayerZero Power Systems Announces Manufacturing Facility Expansion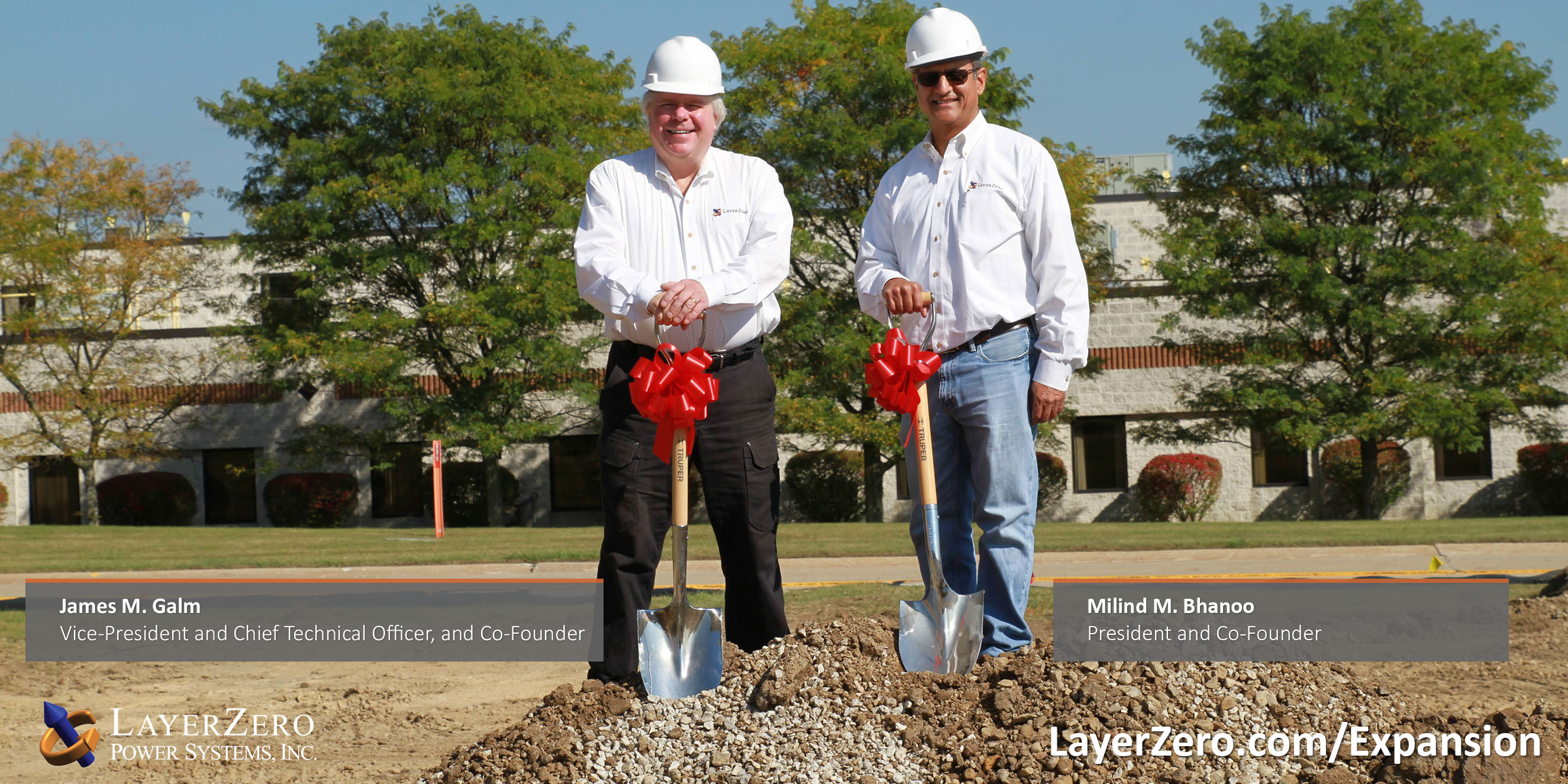 LayerZero Power Systems (LayerZero), a global leader in power reliability solutions, announced today a major expansion of its primary manufacturing facility.  This expansion is a direct response to the growing global demand for reliable power solutions, and demonstrates LayerZero's commitment to leading the industry in operational reliability and technological innovation.  To celebrate this momentous step forward, the company held a groundbreaking ceremony at LayerZero world headquarters. 
Since its founding in 2001, LayerZero has been at the forefront of power distribution innovation. LayerZero Power Systems' groundbreaking products and technologies have made power distribution safer and more reliable than ever before.  Recognizing the current demands and future requirements of the industry, especially with the rising power needs for data processing, LayerZero is taking decisive action to expand its physical footprint and increase its manufacturing capacity. 
The new facility will be located adjacent to LayerZero's existing headquarters in Aurora, Ohio. The new facility is expected to be operational by Q2 of 2024 and will create over 30-40 new jobs.  "Our building expansion is a monumental step in our growth trajectory. It's not just about increasing square footage; it's about solidifying our commitment to our customers, enhancing delivery timelines, and ensuring the consistent high-quality products LayerZero is renowned for," remarked LayerZero's Marketing Manager.  "LayerZero Power Systems has a vision for the future of power reliability.  This expansion will help us meet the increasing demands of our customers."
In addition to expanding its manufacturing capacity, LayerZero is also investing in new technologies and manufacturing equipment. The new facility will feature state-of-the-art production lines, as well as a dedicated space to support research and development efforts.  
Key highlights of the building expansion include:
Enhanced Production Capacity: The augmented facility space will substantially increase LayerZero's manufacturing output, ensuring timely fulfillment of large volume orders.
Infusion of Talent: To complement the physical expansion, LayerZero is also ramping up its hiring, onboarding many new employees across various roles to support and optimize the enhanced production capabilities.
Technological Advancements: The expanded space will support state-of-the-art research and development, reaffirming LayerZero's commitment to technological innovation, including the rollouts of advancements like VDAT Plotting technology and INSIGHT IR®.
Hiring Spree To support its growth plans, LayerZero is also hiring aggressively. The company is currently looking to fill positions across a variety of disciplines, including engineering and manufacturing. LayerZero is committed to building a diverse and inclusive team that reflects the communities it serves.
Technological Advancements at LayerZero
LayerZero is also investing heavily in research and development. The company is committed to developing innovative power solutions that meet the evolving needs of its customers. Some of LayerZero's latest technological advancements include:
VDAT Plotting technology: This new technology allows LayerZero users to generate ITIC plots of power quality events.
INSIGHT IR®: This new software and hardware platform provides real-time insights into the thermal performance of LayerZero's power distribution systems. 
LayerZero Power Systems is committed to leading the industry in power reliability innovation. The company's building expansion, hiring spree, and technological advancements are all part of its mission to provide its customers with the safest, most reliable, and innovative power solutions available.
LayerZero Power Systems is a rapidly growing leader in the power reliability industry. The company's recent building expansion, hiring spree, and technological advancements demonstrate its commitment to innovation and growth. LayerZero's products and services are used by businesses and organizations around the world to ensure uninterrupted power supply and optimal performance of critical systems. For a comprehensive insight into LayerZero Power Systems, its current expansion phase, and its enduring commitment to operational reliability, please visit www.LayerZero.com/expansion.
About LayerZero Power Systems: LayerZero Power Systems, established in 2001, is a global leader in operational reliability solutions. With a legacy of excellence, the company is dedicated to reshaping the mission-critical industry through innovation, technology, and commitment to operational reliability. LayerZero's expansion marks an exciting chapter in its journey, as it seeks to empower industries with solutions that optimize power reliability, enhance operator safety, and drive operational efficiency with state-of-the-art power quality monitoring technologies.  LayerZero is renowned as an industry leader in power reliability, delivering its services to businesses and organizations worldwide. 
For media inquiries, partnerships, or further details about the expansion, please contact:
LayerZero Power Systems, Inc.
1500 Danner Drive
Aurora, OH 44202 USA
440-399-9000
info@layerzero.com
www.LayerZero.com