Even LayerZero Hardware Is Mechanically Advanced
Our bolted connections utilize machined cap screws and engineered disc springs. The result is a flat pressure vs deflection profile to ensure that all bolted connections maintain constant torque through the life of the product.
These technologies have been well tested in disparate environments of wide temperature ranges to help ensure that, once connections have been tightened, they stay that way.
Qualitive Review of Disc Springs
Load vs. deflection in operating condition of 600 A with a temperature rise of 50C
With no spring in connection the load would be overstressed deforming the thread beyond yield point (permanent deformation).
The connection is stretched, therefore the load is removed (loose joint), and no contact pressure on the joint causes excessive heat when load is reapplied. Without a spring in the connection, a short circuit overload will permanently deform the connection and damage the reliability of the system.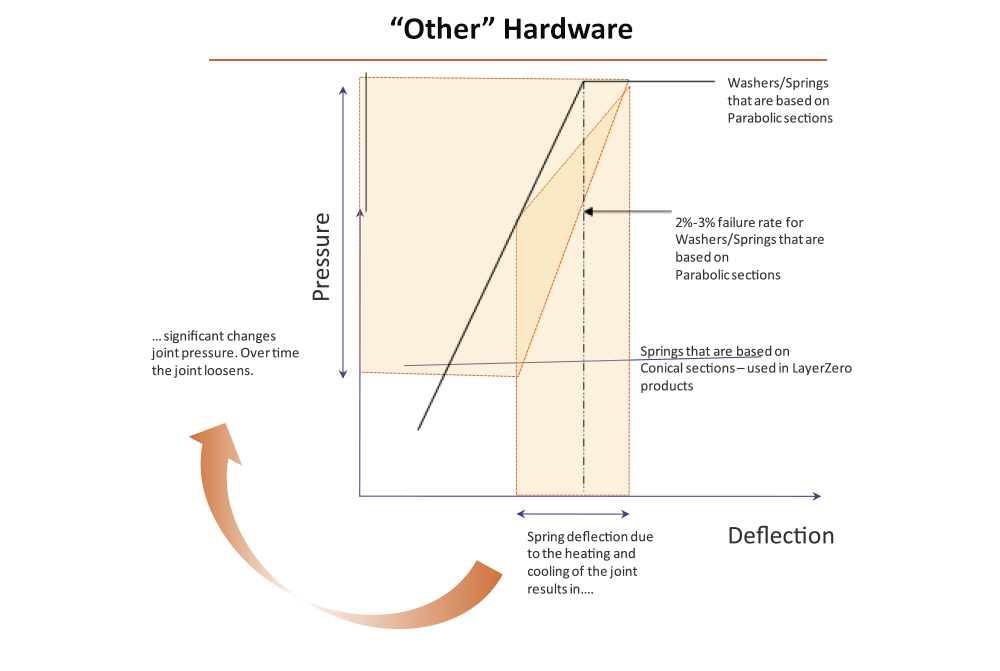 With the disc spring in connection the load will increase slightly as the spring deflect the 1-1/2 mils with no stress on the bolt. The spring will return to it's ambient condition of load without stress to the bolted connection. With a spring in the connection, a short circuit overload will not damage the system.